COMING SOON IN 2015 -
All stainless steel Model 2127SS dolly for complete wash down and clean room type environments, higher capacity
NEWS/SPECIALS - November 2014
MODEL 5500 EXTREME WEIGHT TRIPOD DOLLY
Heading: M H Dollies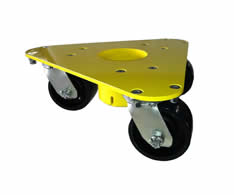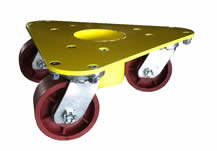 Bond Caster and Wheel has added new wheel types to improve the range of applications for the Extreme Weight Dolly: crowned polyurethane, Phenolic and Ductile iron. Bond has also produced these dollies to meet special needs such as a square center well, lower profile, higher and lower weight capacity, etc.
Contact us with your needs:
Telephone: 800-233-2663 or email: sales@bondcaster.com
NEWS/SPECIALS - APRIL 8, 2010
How Green is Bond Caster?
Bond Caster and Wheel and Bond Machine and Fabrication share the buildings at 230 South Penn Street in Manheim, PA owned by the Bond Family since 1905. In the last five years the Bond Companies have made considerable strides to become more efficient in conservation of resources.
Throughout the Bond history our building has received very little changes; to visit us you would remark we are a historical legend. Many of the machines, benches, material management equipment and accessories have supported the company with a century of use.
As noted in the last five years, Bond has made the following improvements to be a responsible member of this community and planet:
Aluminum siding

New Windows on 70% of the building

New garage doors

Florescent lighting throughout the factory

Material recovery; metal, wood, lubricant fluid, oils

Heating system using less fuel

Four 10 hour day work schedule for plant

Re-useable containers for manufacturing material handling

Office paper recycling

Lunch room materials recycling

Donation of out dated office equipment to non-profits

Property water run-off control
However, employees are our primary concern. We have not lost one person during the down turn in business last year, improved our health insurance and added other insurances to our benefit offering.
Bond is a responsible community citizen and has recently been awarded The 2009 Manheim Borough Red Rose Award. We are one of the oldest and longest term employers in our township and county.
Bond was recently featured in the March 5, 2010 Central Penn Business Journal Magazine recognizing the fifth generation Bond family member, Alex Bond, and our historical significance in the Lancaster and Philadelphia counties.
Lastly, our commitment to our customers has provided Bond with business longevity. Lou Bond will treat every customer the way he would like to be treated; finding the best value for your investment in Bond Products. Many of Bond's products are still being sold that were designed in the early 20th century. One of our valued customers recently remarked that they have never in their 25 plus year purchase history had a problem with a Bond product.
Thank you for your interest and we welcome you to the Bond Companies.